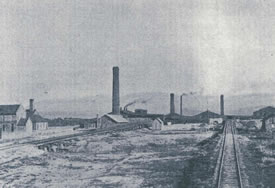 The East Helena Site includes the former ASARCO lead smelter that operated for more than a century, and then ceased operations in 2001. A water treatment plant for handling storm water and gray water associated with the cleanup is the only remaining operating facility at the East Helena Site.
ASARCO transferred title to about 3,980 acres (plus about 2,000 acres of unpatented mining claims) at the four Sites in Montana on December 9, 2009, to METG as Trustee of the Custodial Trust, and deposited approximately $138 million into the Custodial Trust for cleanup work. ASARCO also transferred an additional $39.5 million directly to the State of Montana for natural resource damages. In addition to the funding, the State will be given 232 acres of ASARCO's land (now held by the Custodial Trust) once it is cleaned up, including wetlands along Prickly Pear Creek near the smelter Site in the Helena Valley.
About $94 million of the funds transferred to the Custodial Trust are earmarked for the East Helena Site, for treatment of arsenic- and selenium-contaminated groundwater migrating off the plant site northwest toward the Helena Valley and for stabilizing, controlling, and/or removing lead- and arsenic-contaminated soils on the 1,500 acres of the former ASARCO land. These lands also include ranches and farmland that encircle three-quarters of the smelter property that were purchased because of concerns that contamination might be impacting the growing and grazing uses of the property.
Through the federal RCRA and CERCLA programs, EPA has Lead Agency responsibility for enforcement and oversight of the East Helena Site. While the Custodial Trust has taken title to the property, the Custodial Trust is acting solely as a fiduciary for the benefit of the Beneficiaries.