Bullock signs $5.4M ASARCO settlement funds for East Helena trails, water infrastructure
By Tom Kuglin, excerpt from Helena Independent Record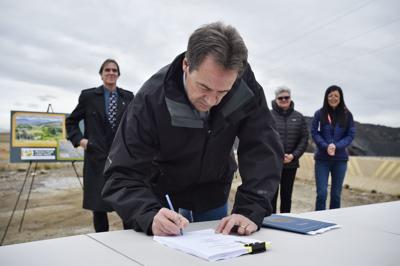 Gov. Steve Bullock on Monday signs the final Natural Resource Damage Program East Helena Restoration Plan, which allocates $5.4 million for the construction of the Greenway trail system and priority water infrastructure projects in the East Helena community.
The city of East Helena will receive $2.1 million for water infrastructure while $3.2 million will go to open space and trails across the former smelter site, per an agreement signed by Gov. Steve Bullock on Monday.
On Monday, Bullock signed the final decision for spending more than $5.4 million.
"Our work here today is really about making sure that this next generation of kids growing up in the Helena Valley and East Helena have every opportunity to succeed and to realize and recognize their potential," Bullock said. "Part of that is ensuring certainly that their environment is safe to live and play in, that their community has access to clean and safe drinking water, and that the ASARCO site itself is restored to provide for recreational use and amenities that'll attract growth and opportunities to live and work in the community of East Helena."
Under the decision, $3.2 million will go to development of the Greenway Trail linking East Helena to Montana City along Prickly Pear Creek. That plan includes conveyance of the state-owned land to Prickly Pear Land Trust for development of the trail and publicly accessible open space.
https://www.mtenvironmentaltrust.org/newsite/wpinhere/wp-content/uploads/2016/04/METG-logo-transparent.png
0
0
Anna Novikova
https://www.mtenvironmentaltrust.org/newsite/wpinhere/wp-content/uploads/2016/04/METG-logo-transparent.png
Anna Novikova
2019-11-15 12:06:26
2019-11-15 12:06:39
Bullock signs $5.4M ASARCO settlement funds for East Helena trails, water infrastructure